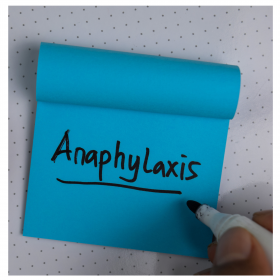 Anaphylaxis Emergency Action Plan
All students at risk of Anaphylaxis are required to have an Emergency Action Plan completed and on file at the school. Parent/guardian and physician signatures are required.
Allergy Aware Checklist
The prevention and management of anaphylaxis is a shared responsibility with roles and responsibilities for parents/guardians, allergic students and the entire school community. This checklist can be used to help create an allergy aware environment in your school.
* Note: the Medic Alert "No Child Without Program" is on pause as of September 2022. We will update when program is reinstated.
Annual Review of Allergy Aware Checklist & Emergency Plan
It is recommended that Administrators use this form to complete their annual review with parents and student (if age 8 years and up).
10 Steps to an Allergy Aware School for Administrators
10 steps to follow to ensure your school is allergy aware.
Administrator Anaphylaxis Incident Form   
Administrator Incident Follow Up Checklist
These two forms are to be completed by an administrator following an anaphylactic incident in the school.
Letters to Parents/Caregivers:
Anaphylaxis Online Training
This is an ANNUAL training and will take approximately 30 minutes to complete. At the beginning of each school year and as per district policy, training  will be offered to all school staff and persons reasonably expected to have supervisory responsibility of school-age students and preschool age children participating in early learning programs, may include food service staff, volunteers, bus drivers, and teachers on call. This online course will help staff understand the basics of anaphylaxis, ways to reduce risks in a school setting and the recommended emergency treatment.
Allergy Aware Poster
To be posted in high traffic and relevant areas in your school and classrooms.
Signs and Symptoms Poster English Signs and Symptoms Poster French
To be posted in high traffic and relevant areas in your school and classrooms.