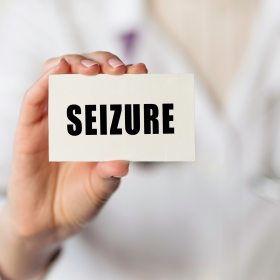 At this time the seizure forms are being updated regularly. To access the most recent forms visit the Nursing Support Services website and click on the last tab as indicated in the picture below.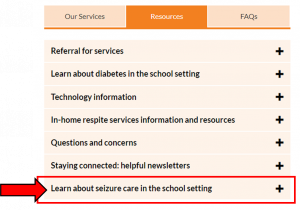 Epilepsy and Seizure Information for Schools Video (7 Minutes) – to be viewed by ALL staff
A description of the documents on the NSS Website:
• Seizure Action Plan & Medical Alert Information – 9 pages
How to use: This form is a communication tool for use by parents to share information with the school in order for school staff to provide seizure first aid/care support at school. Please plan to review and update this form yearly or if any changes in condition and/or treatment.
• Nursing Support Services Training Request Form/Seizure Rescue Intervention Training
Nursing Support Services offers training for non-medical school staff in how to provide physician/provider-ordered seizure rescue interventions to students in kindergarten through grade 12.
• Training Request Process Infographic – a visual of the 5 steps required to request Seizure Rescue Intervention Training
• Parent Checklist (Optional) – For Schools Requesting a Nursing Support Services Seizure Rescue Intervention Training Session
• Family Role Infographic – a visual you can share with families to help them prepare for the training session