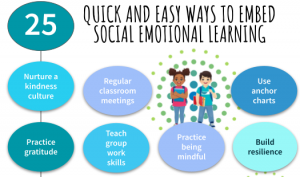 Embedding social and emotional learning (SEL) into instruction is a powerful way to help students connect and engage in learning. This resource was created to provide educators with 25 quick and easy ways to embed SEL into their daily routines and practice.
Each strategy identifies a what, a why and a how, along with 3-4 resources: The "what" identifies the strategy principle. The "why" provides a rationale for using this strategy to support SEL. The "how" offers practical examples for implementation of the strategy.
Click here to access the resource. When you see a strategy that interests you, click on the circle and you will be re-directed to the what, the why, and the how of the strategy along with supporting information and/or student activities.