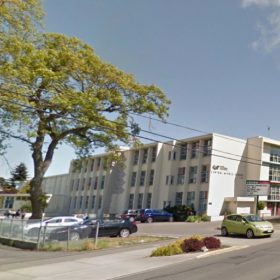 JEFF BELL / TIMES COLONIST
SEPTEMBER 26, 2017
A virtual ban on cellphone use at Central Middle School — a first in the Greater Victoria School District — has already had an effect.
"It's sort of surreal — you come into the building and there are no phones around," said Central principal Topher Macintosh, noting only two phones have had to confiscated since the policy kicked in in September, although some students might have cellphones stashed in their backpacks.
A small number of Central students needing to use cellphones to contact family after school are allowed to keep them in the office during the day, but otherwise there is a ban at the 580-student facility.
"It's gone very well in a lot of ways," Macintosh said. "We knew we wanted that change, but we didn't think it was going to be that challenging to implement in the building, and it really hasn't been.
The parents have been great. There are a handful of kids who get accommodation and that's running very smoothly."
Staff members are also behind the policy, Macintosh said, and have been expressing support in the staff room.
"They're coming in and saying: 'This is fantastic — my phone isn't on my mind all day.' "
The merits of banning cellphone use among high-school and middle-school students are being probed through an online survey by a pair of University of Victoria researchers.
Part of the reason for the survey is the range of digital-technology polices at schools, said Sam Liu, who is in UVic's school of exercise science, physical and health education."Certainly there is interest within the various school boards and schools in Victoria and across the country in looking at this," Liu said. "That's what led us to do this study."
Macintosh said he has spoken to Liu and Ulrich and is interested in getting involved in the survey, but does not want to be seen as a champion of cellphone bans. "We just wanted to make a change at our school and it's going really well, and it's brought about exactly the environment we were after."
When the policy was announced last spring, Mackintosh said cellphones were having a detrimental impact, and despite attempts to control them, they were "a serious impediment to instruction and learning." He said many students have difficulty managing their use of phones.
Co-researcher Ulrich Mueller, a psychologist, said he and Liu are looking to have more communication with schools to spread the word about their survey. The two hope to involve at least 200 local students.
"We're asking people to fill out their cellphone usage, and then we're trying to use that information to look at how that affects outcomes," Liu said. "So their friendships, their attention, their academic performance, as well as their leisure activities."
The survey will continue until the end of March, Liu said, with results expected by April or May. Liu said he wants the survey to be useful to schools, noting there are a variety of opinions about the value of cellphones. "We just want to provide the best evidence to inform that decision."
The survey can be found at schoolcellphonestudy.weebly.com and so far has been taking students under 20 minutes to complete. Students who take part are eligible to win a $200 online Amazon gift card.
jwbell@timescolonist.com
© Copyright Times Colonist