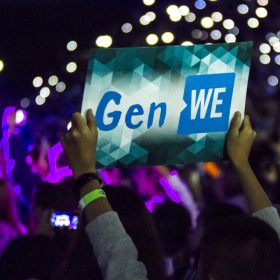 We are proud to share with you that the students and educators in the Greater Victoria School District have accepted the responsibility to make positive change for themselves, their community and the world. Through WE Schools youth are learning about causes that they care about, developing their talents, and putting them to use to make a difference.
WE believes that when we connect young people to their passion to make a better world and encourage them to reach out beyond the classroom to their local community and to the larger world that they can truly find themselves and take responsibility for changing the world.
SD 61 LOCAL CAMPAIGN PARTICIPATION  2017-2018
WE Schools' local campaigns focus on some of the most common local issues in communities throughout Canada. From hunger to bullying, WE encourages students and educators to learn more about issues close to home and explore innovative ways to take action.
WE Rise Above
Students can promote positive online behaviour and create awareness of the power and impact online words and actions have.
Two SD 61 schools participated in WE Rise Above
WE Take Charge
Students commit to a sustainability pledge in their school or community and see how everyday actions can turn into a sustainable impact.
Six SD 61 schools and groups participated in WE Take Charge
WE Scare Hunger
Students come together to collect food to help 'scare' away hunger by holding food drives to contribute to the local community and raise awareness of the root causes of hunger.
Nine SD 61 schools participated in WE Scare Hunger
WE Film for Change
By creating a documentary film to shed light on an issue that's important to a student, they can share it with others and spread the message. Through the power of storytelling they can help create social change.
One SD 61 school participated in WE Film for Change
WE Are One
Technology is a powerful tool for social change. Student use it to imagine and develop ways to make their school and community more inclusive for everyone.
Two SD 61 schools participated in WE Are One
WE Volunteer Now
WE supports students finding their passion for change. By gathering friends to volunteer to support a cause in their community they can create real change.
Four SD 61 schools participated in WE Volunteer Now
WE Stand Together
Students help strengthen ties between all people across Canada by facilitating learning and dialogue on the relationship between Indigenous and non-Indigenous people.
8 schools and groups participated in WE Stand Together
Eight SD 61 schools participated in WE Stand Together
SD 61 GLOBAL CAMPAIGN PARTICIPATION 2017-2018
Learning about the issues facing the world beyond our own community can  provide students with new perspectives.  Following are six global action campaigns that can help students connect with people across the world.
WE Create Change
By bringing classmates together, students learn the impact every dollar makes. By fundraising to purchase a goat for a family in a developing country, students learn how a goat is also a source of nutritious milk and sustainable income, a goat is the gift that keeps on giving.
Four SD 61 schools and groups participated in WE Create Change
WE Bake for Change
Holding a bake sale can give families the ingredients they need for a better future. Students get to raise funds for a global issue they are passionate about and learn about the impact of food insecurity around the world.
Six SD 61 schools participated in WE Bake for Change
WE Give Health
By organizing healthy-living events, students can walk, run and even dance to make a global impact on an issues they are passionate about, while also focusing on the importance of global health.
Three SD 61 schools participated in WE Give Health
WE Are Silent
By taking a vow of silence, students are able to turn up the volume on the struggles of young people fighting for their basic human rights.
Four SD 61schools and groups participated in WE Are Silent
WE Are Rafiki
Students learn about social entrepreneurships, women's rights and how they can empower women in Kenya and help them earn money to send their children to school by selling handmade Rafiki bracelets.
Three SD 61 schools and groups participated in WE Are Rafikis
WE Walk for Water
Students learn about the importance of access to clean water and how they can help break the cycle of poverty by improving sanitation, preventing waterborne illnesses and giving people the opportunity to go to school and to earn a living.
Eight SD 61 schools participated in WE Walk for Water