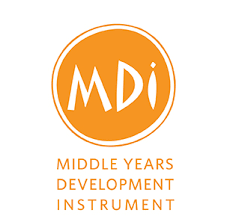 The Middle Years Development Instrument (MDI) is a self-report questionnaire completed by children in Grade 4 and Grade 6 in our district. It asks them how they think and feel about their experiences both inside and outside of school. Both the Grade 4 questionnaire and the Grade 6 questionnaire include questions related to the five areas of development that are strongly linked to well-being, health and academic achievement.
MDI Measures the following Dimensions:
Physical Health & Well-Being
Children evaluate their own physical well-being in the areas of overall health including body image, nutrition and sleeping habits.
Connectedness
Children are asked about their experiences of support and connection with the adults in their schools and neighbourhoods, with their parents or guardians at home, and with their peers.
Social and Emotional Development
Children respond to questions about their current social and emotional functioning in 7 areas: optimism, self-esteem, happiness, empathy, prosocial behaviour, sadness and worries.
School Experiences
Children are asked about their school experiences in 4 areas: academic self-concept, school climate, school belonging, and experiences with peer victimization(bullying).
Use of After-School Time
Children are asked about the time they spend engaged in organized activities such as sports, music and art, as well as the time they spend watching TV, doing homework and playing video games.
Access the MDI District Highlights and Full Reports Here