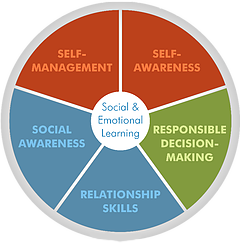 Strong social-emotional skills are critical for a child's educational attainment, their long-term well-being and prosperity, and their ability to contribute to society.

The Collaborative for Academic, Social and Emotional Learning (CASEL) mission is to help make evidence-based social and emotional learning an integral part of education from preschool through high school.
BC Healthy Schools List of 93 Resources on Social and Emotional Wellbeing
A workbook for middle school students to support their personal growth and self- exploration.
Content includes:
Understanding and Identifying Needs
What's Unique About Me? Inventory
How Do I Learn? Inventory
Decision Making
Creating Your Support Network
and more!